| | |
| --- | --- |
| Posted on 28 August, 2020 at 11:00 | |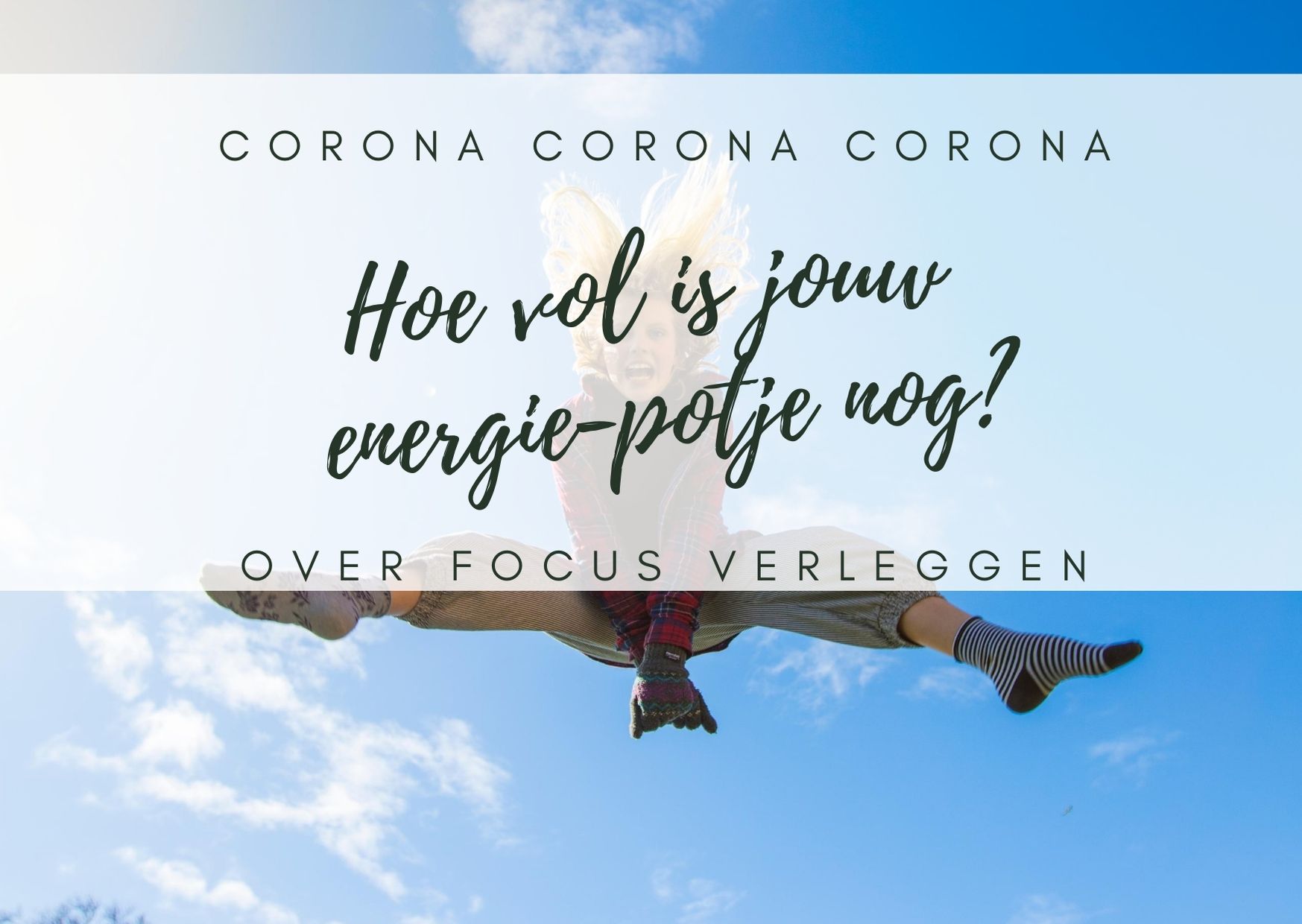 Aan het begin van deze week plaatste ik een bericht over toenemende stress (en het mogelijk leiden tot agressie). Ik had het vrijdag al klaargezet om te delen. Vandaag mijn persoonlijke verhaal over dit thema. Want hoe goed ik ook weet dat ik mijn energie moet bewaken, het lukt mij niet meer zo makkelijk als voorheen. Net als velen van jullie, heb ik nog nooit met zoiets als een pandemie en deze maatregelen te maken gehad. En mijn brein en lichaam hebben tijd nodig gehad om daar een weg in zien te vinden. Waarom de een dat (ogenschijnlijk) wat sneller en makkelijker kan dan een ander, heeft met veel factoren te maken. Maar zonder te vergelijken, merk ik dat soms het huilen mij nader staat dan het lachen.
Maandagochtend bracht ik mijn kinderen na de vakantie weer naar school. De jongste gaat naar groep 2 met een nieuwe juf en nieuwe kinderen, de middelste naar groep 5 op een nieuwe school en de oudste ging zelf op weg naar het grote avontuur van groep 7 op een nieuwe locatie. Best spannend allemaal. Ook voor mama.
Eerst de jongste wegbrengen. Met z'n tweeën liepen we naar het schoolplein. Vanwege de maatregelen moest ze het laatste stuk alleen lopen, maar dat had ze vaker gedaan. Ze werd echter zenuwachtig omdat ze haar juf niet zag en liep halverwege weer terug naar mij. Een stemmetje in mijn hoofd zei: rustig blijven, je hebt nog 10 minuten voordat je bij de volgende school (7 km verderop!) moet zijn… Ondertussen probeerde ik haar de juf aan te wijzen. Door de drukte op het plein was dat echter ook voor mij een opgave. Langzaam merkte ik dat ik het warm begon te krijgen en om me heen begon alles te duizelen. Ik zag en hoorde alleen nog maar huilende kinderen en het leek of ik werd omsingeld door het-is-de-eerste-schooldag-van-ons-kind-dus-we-brengen-hem-met-papa-mama-opa-oma-en-de-buurvrouw-naar-school-ondanks-coronamaatregelen-gezinnen. Niet goed, Bianca. Niet goed. Waar kwam dit nare gevoel vandaan? Ik herkende het absoluut niet. Ik probeerde mijzelf weer rustig te krijgen. Uiteindelijk had ik mijn dochter overtuigd dat ze haar juf echt voor de schooldeur op de bekende stip zou vinden en kon ik rustig (lees: met zweet in m'n nek) de tweede dame naar haar nieuwe school brengen.
Eenmaal weer thuis realiseerde ik mij dat ik aan mezelf mocht gaan toegeven dat het allemaal best veel was geweest de afgelopen maanden. Niet alleen heb ik als ondernemer en afstuderende moeder van drie jonge kinderen al een behoorlijk volle agenda, maar door de maatregelen was mijn to-do-lijst alleen maar langer geworden. En alles nam ook meer tijd in beslag. Ik besloot een lijstje te maken van waar we de afgelopen maanden mee bezig waren geweest. Dit werd een lijstje met gelukkig veel mooie dingen, maar niet allemaal waren ze even stress- en spanningsloos.
Zomaar wat dingen uit m'n lijstje:
- We hebben een kavel gekocht, vervolgens ons huis verkocht en het "Funda-klaar" maken terwijl drie kinderen thuis onderwijs krijgen i.v.m. de maatregelen was best inspannend. Hierna mochten we ons nieuwe huis ontwerpen, voerden we gesprekken met aannemers, en met elkaar i.v.m. belangrijke zaken zoals de schoolkeuze van de kinderen, etc. En gingen we op zoek naar een nieuw onderkomen voor de tussenperiode. Momenteel wachten we op de goedkeuring van welstand en staan we op het punt om te verhuizen naar een tijdelijke woning.
- Er kwamen wat gezondheidsdingetjes op ons pad. Het mag geen verrassing zijn dat ook dit een andere benadering kreeg door de maatregelen rondom Covid-19.
- Ik weet niet hoe het jullie is vergaan, maar het hele gezin 24/7 thuis… ik vind er wel wat van. Zeker omdat we allemaal onze gebruikelijke uitlaatkleppen even op onze buik konden schrijven.
- Ik mocht de laatste fase van mijn studie afronden met een praktijkexamen en een scriptie. Uiteraard geeft een examen gewoonlijk al spanning, laat staan met veiligheidsmaatregelen.
- Op 16 april moest ik de deuren van mijn praktijk tijdelijk sluiten, zonder zicht op voor hoelang. Ik kroop daarom achter de ontwerp- en bedenktafel om nieuwe mooie dingen te bedenken.
- Op 11 mei mocht ik de praktijk met veiligheidsmaatregelen weer openen. Het is steeds weer zoeken naar hoe en wat.
- Ook ik had last van mijn "Covid-kilo's" door het gebrek aan beweging en sport.
- We mochten vier verjaardagen vieren zonder het gebruikelijke feestje. Twee bruiloften en diverse jubilea werden afgezegd en ook krasten we de festivals op de kalender door.
- Etc.
Dit lijstje liet ik even op me inwerken. En daarna ging ik mediteren. Punt voor punt nam ik het lijstje door. Wat doet/deed (punt) met me? Hoe voel/voelde ik me? Waar voel/voelde ik dit? Door het toelaten van al deze emoties, kon ik ze ook weer loslaten. Niet ieder onderwerp ging even snel en makkelijk en sommige punten zal ik ook weer moeten herhalen. Maar ik voelde dat ik steeds wat lichter werd. Dat ik rustiger en dieper kon ademhalen. Ik sloot af met een lekker kopje thee. Die avond vertrok ik naar de sporttraining en daarna heb ik mezelf een Reiki-behandeling gegeven. Heel erg fijn!
Voor mij is het blijkbaar heel belangrijk om voldoende dingen te doen waar ik energie van krijg. Dat sommige zaken energie kosten, heb ik al geaccepteerd. Maar door de maatregelen kon ik de dingen niet meer doen die me normaalgesproken energie geven. Ik heb echt onderschat hoe goed dat werkt voor mij. Daardoor lag mijn focus op negativiteit en rouw om wat niet is, in plaats van op positiviteit en al dat wel is. Door het ontbreken van routine en structuur zoals sport. En het wegvallen van mooie vooruitzichten als verjaardagen, bruiloften, met vrienden samen zijn, kraamvisites, festivals of gewoon simpel even een ijsje eten. Ik werd dus prikkelbaarder en gevoeliger voor randzaken.
Ik heb dus ook een lijstje gemaakt van dingen/activiteiten die mij energie geven. En die nu ook (weer) mogelijk zijn. Zo veel punten als ik maar kon bedenken ben ik gaan opschrijven. En ook dat gaf mij weer energie!
En weet je, volgende week woensdag 2 september is er weer een vollemaan-meditatie! Dat is een van de dingen waar ik echt heel veel energie van krijg. Doe je mee? Gaan we samen opladen voor september.
Meer informatie over de vollemaan-meditatie vind je op facebook: www.facebook.com/events/1194529564227615/
Categories: Holistische therapie
/